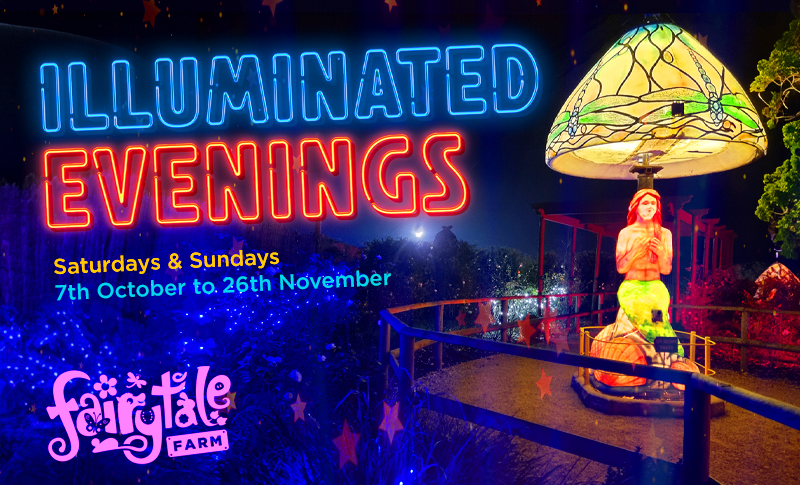 Illuminated Evenings 2023
7th Oct 2023 - 26th Nov 2023
Don't miss our Illuminated Evenings on Saturdays and Sundays from 7th October to 26th November 2023.
The park will be open all day as normal, but when daylight fades the entire Enchanted Walk will become a magical wonderland of fairy lights, which will delight children and adults. The Mermaid Garden, Fairy Dell, Dino Valley, Jack's Yard and the entire Enchanted Walk will be a blaze of colour and light, with several new features for 2023, including the illumination of our magical new Fairy Dell!
See the Giant's Camera, The Extinct Band, Giant Party Poppers, and Light Fountains illuminated, walk through the Tunnel of Light and watch the Dancing Water Fountains with an accompanying light show. Snow White's Castle and the Seven Dwarfs' house will also be illuminated and will look spectacular, and you can see Jack's Beanstalk rising into the night sky.
We have a whole new illuminated display in Dino Valley, including brand new illuminated waterfalls, streams, fountain, with a dinosaur that rises out of the water. This forms a centrepiece to the 2023 illuminated display.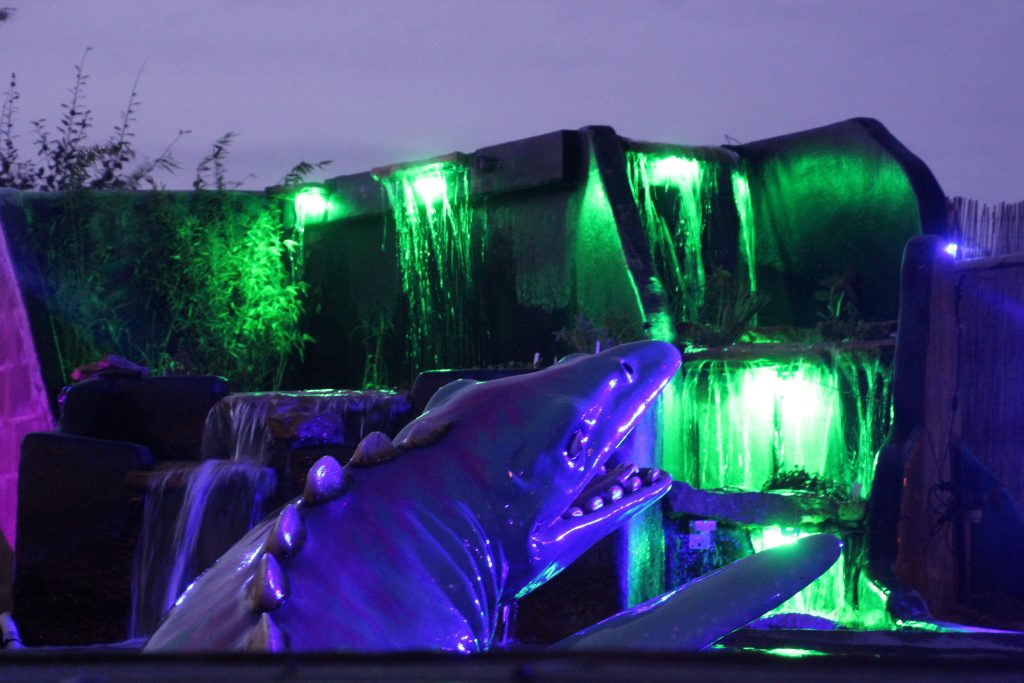 Our lights are energy efficient and eco-friendly as large sections of the display are now using LED bulbs, which are the most efficient way of generating light available. They are also brighter and more colourful.
The farm will stay open until one hour after dusk every weekend (and every day through the October half term), and daytime visitors can stay on and see the illuminations for free. We also operate a reduced admissions price from 3pm, which you can buy at admissions on arrival. The Beanstalk Cafe will be open throughout with a choice of hot and cold snacks.
Parts of the animal area will close at dusk as the lights come on, so be sure to arrive in good time so you don't miss all that Fairytale Farm has to offer in the daylight. And don't forget, our annual pass holders can visit for free, as many times as they like.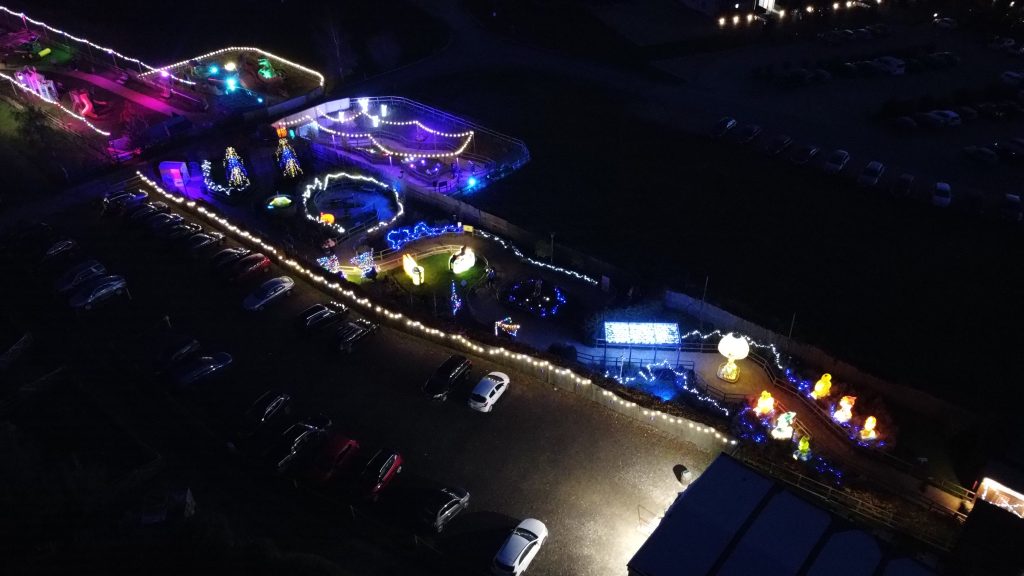 Illuminations and Supper Deal
We also offer an all-in farm admission and food deal. Our 'Illuminations and Supper' Deal is available every weekend (and through the October half term) from 3pm for £13.50 per adult and £12.50 per child (16 and under). This price gives evening entry to the Farm (with a chance to see the animals if you arrive promptly at 3pm), a choice of hot food and a drink in our Beanstalk Cafe, and then finish the evening with a stroll through the illuminated gardens after the lights switch on. A truly magical evening for the whole family.
The supper is included in your ticket and is a choice of:
Jumbo hot dog with a proper sausage served in a whole baguette (half for children under 16), and a choice of with or without onions;
Home-made soup with crusty roll and butter; or
Jacket potato with baked beans (vegan and gluten free), a real winter warmer.
Note that the animal area closes at dusk so please arrive as soon after 3pm as you can if you want to see these parts of the park before the illuminations switch on.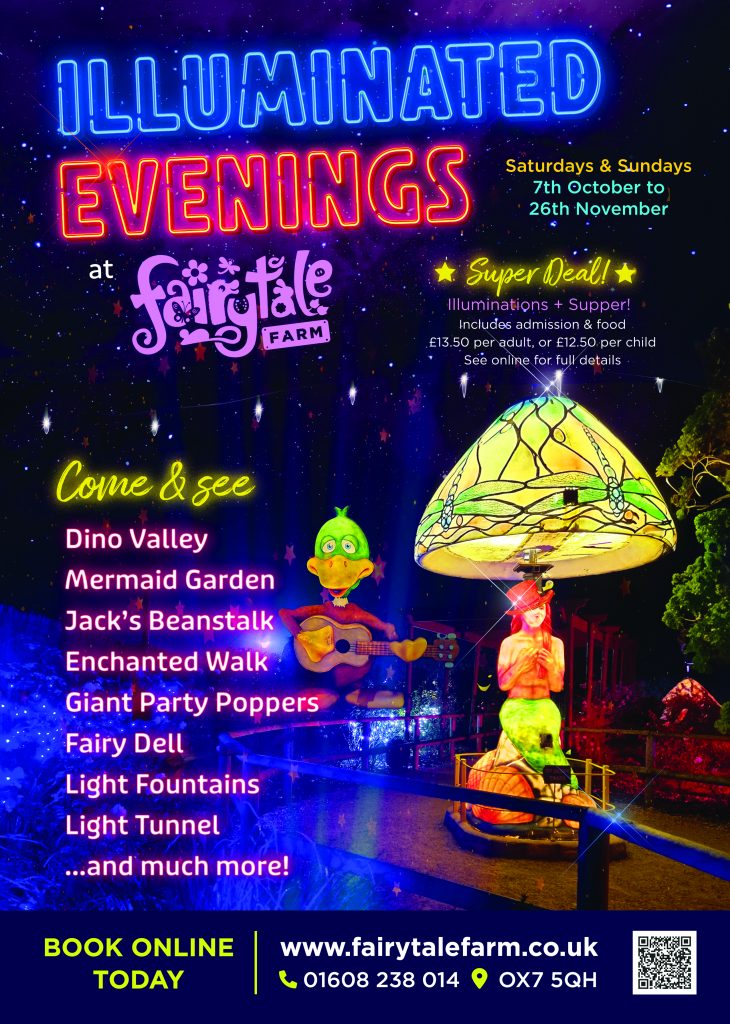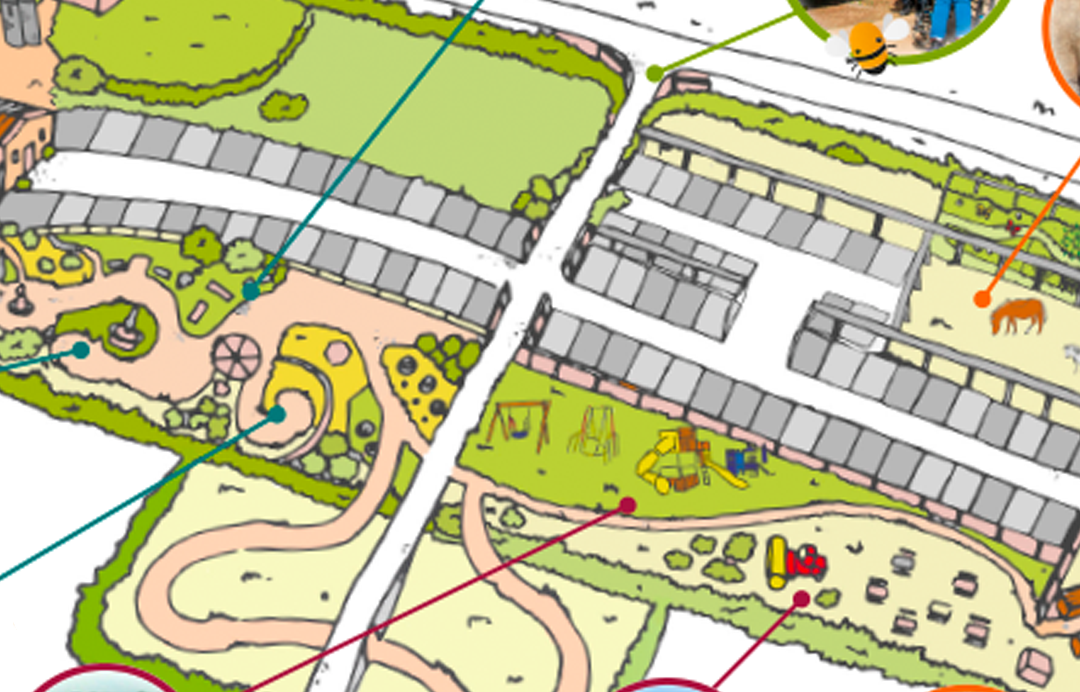 Don't miss a thing. See the latest seasonal events from Fairytale Farm to delight your little ones. From a visit from the Easter Bunny to our themed weeks and half term events. There is always something going on.
Click here